What are Career Pathways?
"Career pathways are essential in adult education because of their role in enhancing the workforce skills of adult learners thus aiding in the alleviation of poverty through increased earnings." (COABE 2018). Students who successfully embark upon and complete a career pathways track are much more employable. To this end, Wyoming's Adult Education centers have partnered with numerous agencies, businesses, post-secondary education/training centers, and community based organizations, as represented below, to ensure that Adult Education students are provided with the services needed to complete a career pathways track.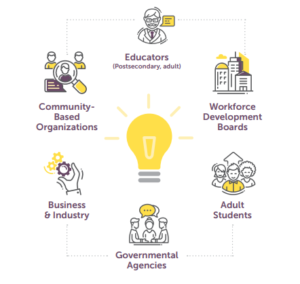 In July 2020, the American Workforce Policy Advisory Board, co-chaired by Advisor to the President Ivanka Trump and Secretary of Commerce Wilbur Ross, launched the "Find Something New" advertising campaign to raise awareness about the multiple pathways to career success for American students and workers across our country.
The new website provides resources to help American students and workers identify and pursue the right path for their career goals. The website offers an interactive tool that recommends education pathways for each user and information about rising careers to consider. Pathways featured include online learning, professional certification programs, associate's degrees, and vocational, technical and trades education. The campaign ads feature stories from real people who found fulfilling careers after embracing new ways of learning.
Funding for the campaign has been provided by 20 organizations who are committed to promoting workforce readiness for the American public, including: Apple, AT&T Inc., Boys & Girls Club of America, Business Roundtable, CISCO Systems, Inc. Duke Energy Corporation, General Motors Company, The Home Depot, IBM, Johnson & Johnson, JPMorgan Chase & Co., Lockheed Martin, National Association of Manufacturers, SAP America, SHRM, United Technologies Corporation, U.S. Chamber of Commerce Foundation, VISA, Walmart, and Western Governors University, along with in-kind contributions from organizations such as the American Association of Community Colleges.
I don't know what profession I might be interested in. What can I do?
Many students do not know what career track they may have the aptitude for and may feel a bit unsure of what to do next. Wyoming Adult Educators are equipped to offer career counseling whenever possible or to make an appropriate referral to guide students into an appropriate career pathways track.
Career Assessments
One of the beginning steps to developing a career pathways plan is for the student to take a career assessment. All Wyoming Adult Education learners will do this, either through one of the processes shown below or at an individual Adult Learning Center. Students who complete this process online should print and/or save a copy of the results to provide to the Adult Education center where enrollment will occur.
1. O*NET Interest Profile: My Next Move's O*NET interest profiler is administered by the U.S. Department of Labor. Users take a 60-question interest inventory that yields a profile of interest tendencies including six areas: Realistic, Investigative, Social, Enterprising, Conventional, and Artistic. Take the assessment here.
You will see a list of careers related to each cluster, and can then sort those careers into five job zones representing different levels of preparation ranging from little job preparation to extensive preparation. The site also has extensive career information related to a variety of careers.
2. Career One Stop Testing and Assessment Center: Discover how pre-employment testing can help businesses find workers with the right skills. Job-seekers can use self-assessments to gauge their skill levels and find where improvement is needed. To take the assessment, please click here.
How are my career assessment results used?
Career assessment results are used to place students into one of the career clusters shown on the chart below. These results may become part of a student's permanent file and may be shared with the Wyoming Department of Workforce Services and/or Vocational Rehabilitation, once appropriate release forms are completed. Students are able to use individualized results to research careers in an identified pathway while teachers tailor instruction around a specific career pathway whenever possible.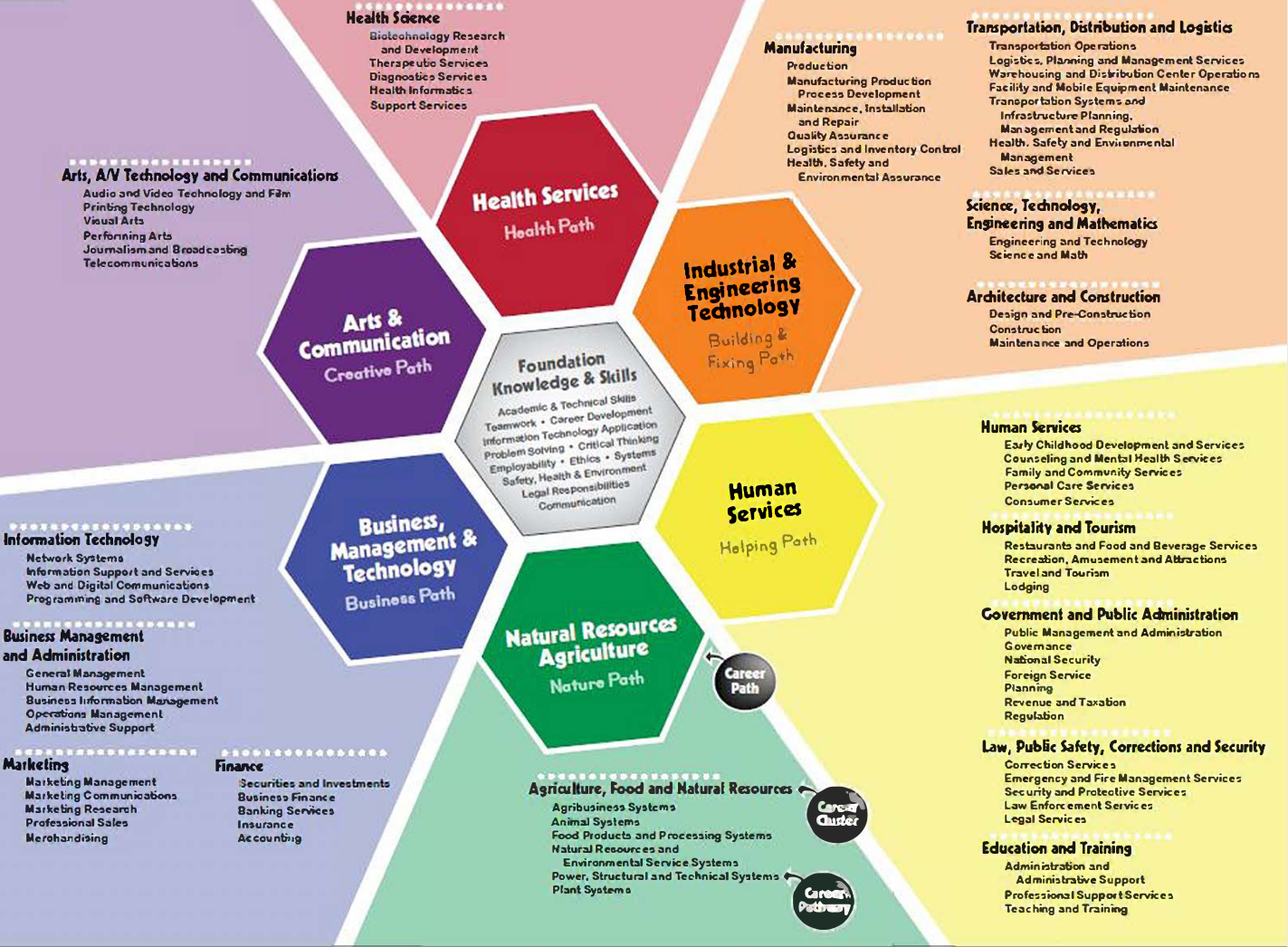 What jobs have the highest demand in Wyoming?
State short-term projections, 2019-2021 for industries most in-need of workers typically fall into five distinct categories:
Health care
Manufacturing
Retail
Hospitality
Construction & the Trades
Additional information about this may be found by clicking here.
Where can I obtain the training needed to be successful in my chosen career path?
Many of the jobs associated with the aforementioned industries require some level of training in what is commonly called Career and Technical Education (CTE). CTE is split into the 16 career clusters shown in the chart above. Increasingly, CTE programs of study are becoming crucial to the development of local, regional, and national economies of scale. To get a better understanding of what CTE programs in Wyoming encompass, please click here.
CTE Programs
In Wyoming, CTE programs of study are offered through the K-12 system as well as through post-secondary institutions of higher learning. Specialized training is also offered through (pre)apprenticeships and internships. Qualified Adult Education students in Wyoming are afforded the opportunity to enroll concurrently in these programs of study.
1. (Pre)Apprenticeship Pathways
"Apprenticeships are a unique training program which utilizes job related technical training and on the job learning experiences." (Build Our Wyoming) There are many places throughout the state where a student can participate in a (pre)apprenticeship program. For a list of available apprenticeships in Wyoming, please click here.
2. CTE programs of study at post secondary institutions also provide learners with training needed to be successful in a career. To find an institution in your career area of interest please click on one of the career pathways tracks below:
3. Internships and on the job training is often arranged for Adult Education students in conjunction with the Wyoming Department of Workforce Services or by collaborative partnerships with local employers. Please contact your local Adult Education center director for more information on these pathways to success.
Post secondary Degrees and Other Training Opportunities
Qualified Adult Education students are allowed to enroll concurrently in CTE programs of study or in an accredited degree program while completing a course of study in Adult Education. Quite often, local Adult Education programs have a system in place to help financially support concurrent enrollments. Information regarding post-secondary degrees and other training opportunities offered through the community colleges can be found here.